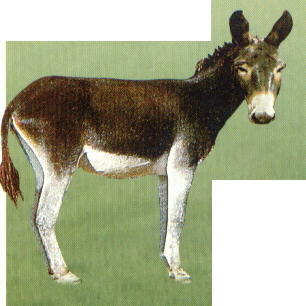 JUMENTO NORDESTINO
0 jumento nordestino, vulgarmente chamado de jegue no Nordeste brasileiro, é um dos animais que maiores serviços tem prestado naquela regiao, onde foi introduzido ha mais de quatrocentos anos, e onde é utilizado no trabaiho e no transporte junto a populaçöes carentes. Mesmo tão útil, está praticamente extinto, tendo sofrido uma reduçao de seu rebanho, entre 1967 e 1981, de 75%. De lá para cá a populacäo vem diminuindo ano a ano, principalmente desde que diversos matadouros se estabeleceram naquela região, realizando abate indiscriminado com a finalidade de exportar sua came para o preparo de rações para animais de estimação.
BRAZILIAN NORTHEASTERN DONKEY
The native donkey of the Northeast of Brazil, commonly called "jegue", has largely served local people. It was introduced there more than four hundred years ago. Poor people use it in daily work and as means of transportation as well. Even being so useful, it is practically extinct. Its herd has decreased in 75% between 1967 and 1981. Since then, the number of individuals has dropped year after year, mainly due to the fact that several slaughterhouses have settled down in that area. They indiscriminately slaughter Northeastern donkeys to export their meat which is used in the preparation of domestic animal rations.